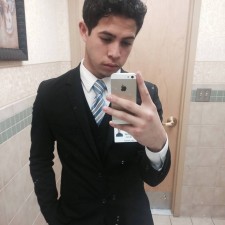 Miami, FL, January 19, 2017 (Newswire.com) - ​Young local man Salvatore Raitano is a self-confessed geek. He spends all of his spare time developing apps for mobile phones. Recently, however, he found himself without inspiration and realized he was lonely. He had no friends to turn to, as he lived his life online. From here came his new inspiration: the development of an app to combat loneliness.
Salvatore Raitano says: "I was lonely by choice. I was so obsessed with creating gadgets and apps, I didn't even realize that I was all alone. But then that one night I had nothing to do, I started to look out of my apartment window and noticed that quite a few people seemed to be alone in their houses. And many of them were elderly as well. We were all within a stone's throw distance of each other, but none of us spent time together. This inspired me to do something."
For the first time in my life, I decided to become social.

Salvatore Raitano, App Creator
An App with a Difference
He decided to create an app with a difference. People can register on it and offer certain services to combat loneliness. This includes offering an extra space at the dinner table, reading to people with sight problems, having a chat with veterans, and more. The development started with Salvatore Raitano looking into the statistics on loneliness, and being absolutely horrified by what he found.
"The percentage of Americans who responded that they regularly or frequently felt lonely was between 11% and 20% in the 1970s and 1980s. In 2010, the American Association of Retired Persons (AARP) did a nationally representative study in 2010 and found it was closer to 40% to 45%. And a recent study done on older adults out of University of California - San Francisco put it at 43%."
App Offers a Practical and Instant Solution to Loneliness
Raitano's app is not the first to address loneliness, but his seems to be the most comprehensive. This is mainly because the apps that are out there seem to focus on helping people look inward to combat loneliness, rather than giving a practical and instant solution.
"Dealing With Loneliness is an app to help you learn how to cope with being lonely. There are many ways out there but what this app is offering is a very detailed method which is easy to understand and apply. One of the ways to deal with loneliness is Subliminal Messages."
Goal of Bringing People Together
While these types of apps have proven to be beneficial for people, they are still very different from what Raitano has developed. For Raitano, the goal was to bring people together in a social way, and to do that safely at the same time. Looking through his apartment block, for instance, he quickly noticed how many people were elderly with mobility issues and distant relatives. "For the first time in my life, I decided to become social," said Salvatore Raitano. "I went knocking on the doors of people in my block to ask them about loneliness. I took me forever, because I was invited in for tea in almost every house, and I heard heart-wrenching stories of people who never saw anybody anymore, because their kids had moved away, and their sight wasn't good enough anymore to go anywhere."
Unable to donate all of his own time to combat the loneliness in the people of his apartment block alone, he decided to work on the app. So far, it includes the ability for individuals to register, but also for others to register their family members should they not be able to do so themselves. While still in the experimental stages - Salvatore Raitano is once again using his own apartment block as a test subject - it is already proving to be very effective, with the various elderly people in his own block now having contact with each other.
Source: Salvatore Raitano
Share: