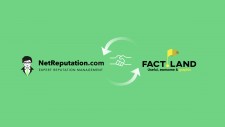 Pursuing better opportunities to succeed in a modern world, these two companies are partnering to build an extraordinary future.
SARASOTA, Fla., February 22, 2018 (Newswire.com) - ​There is no better goal than improving, learning from experience and taking the next steps to develop a better message/journey for clients and collaborators. This is what makes passionate startups become great brands; nobody can deny it.
Partnerships are always an event that takes place from the need to be better as a whole. Today NetReputation is announcing its worldwide alliance with Factland, a digital information lab whose main function is to provide the most appealing pieces of content for brands and audiences in our ever-changing stage, where visual data can be crucial to understanding ideas, case studies and all sorts of different stories.
Images are more valuable than ever; people not only want to read but want to see and grasp knowledge in an immersive way. Video has proven to be a medium that gets lots of interactions but also a tool tailored to our present day, which is: Fast, dynamic, evolving and intuitive. With all these resources on our side, we can build an environment where customers are not just clients but also participants, champions, and contributors.
Let's take a look at the next infographic in order to understand the impact of visual storytelling, and why it is important that more brands all over the planet take this matter very seriously.
NetReputation + Factland (INFOGRAPHIC)
NetReputation is always keeping track of innovation and firmly believes that to survive in a 2.0 world, accepting constant change needs to be a cultural phenomenon. We are leaving behind ages where things remained always the same. Today, there are always new ways, technologies, devices, platforms and so on. Renovation, creativity, and research are words that define precisely what this partnership means for both companies.
What is NetReputation?
Companies with a web presence need a constant and precise monitoring of their actions online. This comes handy when trying to measure good or negative feedback from customers, including bad/positive reviews, brand reputation, SEO, content creation tactics and much more. NetReputation has been advising clients for more than 4 years on how to improve their online credibility.
Call: 800-989-8136 to learn about your future strategy.
Media Contact:
Ryan Burdziak
Ryan@Netreputation.com
786-332-6985
Source: NetReputation
Share: