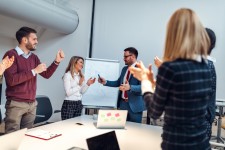 SARASOTA, Fla., June 12, 2018 (Newswire.com) - NetReputation.com, the leaders in online reputation management services, has added four brand new services to its growing range of packages. Now their personal and business clients have even more ways to preserve their online reputation.
Adam Parks explains, "We have introduced a number of new services. Our primary four new services are suppression, background check removal, search engine removal, and protection. Now we can address all the needs of our clients."
NetReputation.com now allows clients to have damaging information removed from any background checks an employer or business partner may carry out. They can also have search results removed from Google through entirely legal mechanisms.
Furthermore, NetReputation.com has expanded its services to provide full 24-hour monitoring of its clients' online reputation. Their trained staff members also have the tools needed to suppress unwanted Google search results by forcing it down the rankings of and off the first page.
Adam Parks says, "We only use experts based in the U.S. to give our clients the confidence they need to place an order with us and know that they're getting real results that won't make the damage even worse."
NetReputation.com also offers its clients the benefits of a full guarantee. If they can't remove an offending result, they will give the client a 100 percent refund.
It is part of the company's commitment to transparency and success.
Background
NetReputation.com is an online reputation management company that offers a range of services for both personal and business clients to manage their reputations online.
The business uses a team of experts based in the U.S. that's well-versed in the laws of the country and of the needs of its primary clients.
They are located in Sarasota, Florida, and have been in business since 2013. Throughout that time, they have dealt with a wide range of different personal and business clients. They have had thousands of records and search results removed from the online arena.
For more information on the services, NetReputation.com offers and more about how the company operates, visit: https://www.netreputation.com.
Media Contact:
Eric Blankenship
Web Presence, LLC
786-332-6554
Source: Net Reputation
Share: