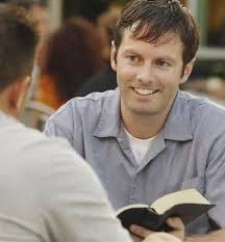 South Portland, Maine, March 7, 2017 (Newswire.com) - Jeff Powlowsky is a missionary who has traveled to various third world countries in an effort to spread the word of Christ. He finally returned home to South Portlan, Maine this week. Trusting that he has the Lord and Jesus Christ on his side, he embarked on the perilous journey with a spring in his step and faith in his heart. Over the course of his travels, he faced many dangers and perils, but he completed his journey as planned, made some fantastic friends along the way, and was able to bring more people into the folds of Christianity. So where did he go, and what did he see?
Nigeria
In Nigeria, he traveled into the regions where Boko Haram is most active. The Islamic fundamentalist organization gained notoriety when they kidnapped 276 young women and forced them into marriage. Quite a number of these women have now been released, although not all. Most recently, a protest took place organized by women who were displaced by the group, and Jeffrey Powlowsky stood alongside them. Nigeria is traditionally a strong Christian country, and he aimed to bring people back to Christ through his presence there.
Democratic Republic of Congo
The Democratic Republic of Congo is a huge country that has been torn apart by violence between different tribes and organizations. Women have born the brunt of this violence, with many being raped and sold into slavery. Some of these women have been able to escape, and have found refuge within the missionary posts within the countries, where they have been provided with midwifery services and the chance of a new and better life. Jeff Powlowsky felt that his experiences in this country had shaped him, being inspired by the strength of character of some of the women affected by these atrocities, and their unwavering faith in the Lord.
The Central African Republic
A negative travel advice for the Central African Republic was issued in October 2016. Jeffrey R. Powlowsky was already traveling then, but he declares that it would not have stopped him from going anyway. The government was overthrown in 2013, and the country has been plagued by looting and unprovoked sectarian violence since then. The situation is now so tense that the U.S. Embassy had closed its doors, and people are now redirected to the embassy in Yaounde, Cameroon. Jeff Powlowsky has seen much violence there, but also much strength from people coming together through the teachings of the Lord.
South Sudan
From the Central African Republic, Jeffrey Powlowsky made his way to South Sudan. When he visited the Darfur refugee camp, he was horrified by what he found. There was a lack of clean water and people would have to walk for miles just to be able to drink. Furthermore, the country is now heading towards a famine, and people are bracing themselves for what is to come. He was heartened, however, by the ability of people of different faiths to come together and live in harmony, and to build on each other's strength in the face of such adversity.
Somalia
Powlowsky's final destination was Somalia. Somalia is perhaps best known for its pirate activities. Jeffrey admits to having been curious as a result of the glorified images presented in the Pirates of the Caribbean. What he found, however, was very different. Pirates were young men who have a life expectancy in their early 20s due to the dangers they face on a daily basis. They engage in piracy solely because they have no other means of feeding their families. Many times, Jeffrey R. Powlowsky had faced the barrel of a gun, but he was able to explain that he was there to spread the word of Christianity and to help people find a better life through faith in the Lord's teachings.
Powlowsky's travels as a missionary were truly dangerous. He faced militias, child soldiers, extreme poverty, and people so hungry they were ready to eat anything. He lived among them with very few resources himself, showing them that, with the same determination and faith in Christ, another way was possible. Besides the very real dangers of violence, looting, rape, robbery, and more, he also had to face the dangers of malaria, bilharsia, cholera, dysentery, and various other endemic diseases. He had to live in and travel through areas still ruled by nature, with dangerous animals and poisonous insects around every corner. But his travels shaped him and allowed him to grow. Most importantly, he was truly able to do the work of a missionary: bring solace into the hearts of the most desperate, teaching them that they are welcome in the Kingdom of Christ, and that they should have faith in the Lord's ways.
Source: Jeffrey R. Powlowsky
Share: