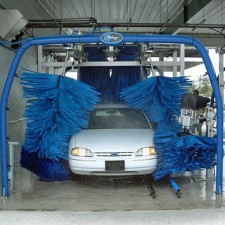 Tampa, FL, April 10, 2017 (Newswire.com) - Brian Dahlberg is proud to announce that he is in the process of opening his third carwash station in Tampa, Florida. He entered the carwash business just four years ago, but his business has taken the world by storm. Dahlberg has proven himself as a true entrepreneur, having had numerous successes in his past ventures.
He says: "I am an entrepreneur at heart. I love the excitement of starting a new business and seeing it grow, until it can sustain itself with a fantastic management team and the best staff. I'm incredibly excited about the third carwash station, which I'm sure is going to do as well as the others I own within Tampa."
"It's not just about making me money, it is about making communities thrive. "

Brian Dahlberg, Owner of Dahlberg Carwash
Achieving success in this particular business is no surprise because Dahlberg had financed his education by working in carwash businesses. This gave him the experience and the insight into what works and what doesn't, and also into what other things customers would like to see in a carwash that are usually missing in other stations. He has taken this knowledge to design the carwash of the future.
Brian Dahlberg says: "The days of students being able to focus 100% on their studies are long gone, and we all need a little side job. I took on a job in a local carwash, thinking it would just be a means to pay the bills. However, it didn't take me long to see that this was actually an enterprise that I could establish for myself! So in a way, I was actually one of those lucky students who could focus 100% on their education."
At the new carwash, just like in his other businesses, Dahlberg has installed a sliding scale of prices. The basic price starts at $25, but more services can be added, going well above and beyond washing a car. They also offer tire shines, polishes, waxes, full interior valeting, and even engine cleaning.
At the carwash, every vehicle is treated with the highest possible care and attention. All those who actually work on the vehicles are fully trained in different makes and models of vehicles, so that they can safely clean the car without damaging it. All the work is done by hand, which ensures that the cars do not get scratched. During cleaning, special waxes and soaps are used, as well as microfiber rags, which are replaced after every use.
One of the key things Dahlberg has implemented in each of his businesses is attention to detail. He adds: "There are a few key components to running a successful business. There are the standard things, such as offering something for which there is a need and making sure you have sufficient staff on board. Furthermore, I have added fully trained staff not just in their physical jobs, but also in customer service. I want to make sure that those who come through our Tampa doors leave 100% happy with the service they have received."
To achieve this, his carwash stations go above and beyond the call of duty. For instance, if a vehicle is found to be in a really bad condition, they will actually remove the seats out of the vehicle so that they can reach even the smallest bit of dirt, which happens often in Tampa, Florida. Every vehicle that comes through their doors leaves as if it is completely new.
One thing that also makes Dahlberg's ventures truly unique is that he engages the community in everything that he does. Whenever he starts a new business, he actually resides in that community, so that he can have a feel of what is really needed. Additionally, he aims to only hire people from within the community itself, thereby ensuring that his ventures contribute to the local economy and instantly gain respect and a positive reputation.
He adds: "It's not just about making me money, it is about making communities thrive. When I start a business, I ensure that the people who provide the services are part of the community that they serve. They become skilled workers who get to see what is needed to run a business the right way. If they ever feel the time is right to move on, they can take those skills and further improve the community."
A large launch event will be held when the new carwash station in Tampa finally opens. Facebook and Instagram pages have been established to feature the new station, which is already attracting a lot of attention, with several community members having expressed their excitement. Once the doors open, they will remain open seven days per week, from 7 am until 7 pm every day.
Source: Brian Dahlberg
Share: