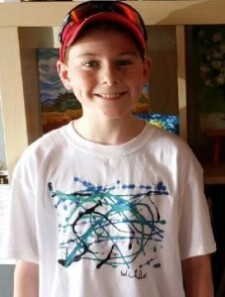 Miami, FL, January 18, 2017 (Newswire.com) - ​Thomas Totten, a local boy, has warmed the hearts of his community by donating all his Christmas gifts to the homeless. Coming from a large family, Totten was looking forward to a happy Christmas when he encountered a man living rough on the street. This man touched him so much that he decided to take action and do something good.
Thomas said: "Because I come from such a large family, I always get lots of gifts. Obviously, I really like them, but then I thought I didn't really need any of those things. I have a loving family, a warm home, and food on the table every night. I felt it was time to do something good."
After encountering the homeless man who spurred Totten into action, the young boy started to research the statsitics on homelessness in the country, and he was shocked at what he found.
"In January 2015, 564,708 people were homeless on a given night in the United States. Of that number, 206,286 were people in families, and
358,422 were individuals. About 15 percent of the homeless population - 83,170 - are considered "chronically homeless" individuals. About 2 percent - 13,105 - are considered "chronically homeless" people in families. About 8 percent of homeless people - 47,725 - are veterans."
Thomas immediately started to take action, and he asked his family to buy him gifts that he would be able to donate to the homeless. Any gifts that had already been purchased, he said, he would sell to buy things that would benefit people living on the street. He asked people what they thought were the best things to give to the homeless and based his Christmas gift wishlist on that.
"When I was homeless, someone gave me a huge wool scarf. It functioned as a summer weight blanket, a pillow. Wrapped properly, it was a hood against rain/snow and an extra layer down my back. After I got a place to live, I gave it to a homeless friend."
Besides scarves, he also asked for socks, toiletries such as toothbrushes and toothpaste, and food. Additionally, he had the sense to ask people for female hygiene products, something that is so often overlooked. "There are many female homeless people out there as well," added Thomas. "They have different hygiene needs from men, and I wanted to make sure those weren't overlooked."
When Thomas Totten started to discuss his plan with his family, they were immediately impressed by the kindheartedness of their young relative and got to work in helping him. Not only did they ensure they got him the gifts he asked for, but they also asked the community to get involved in trying to collect more similar gifts for Thomas to hand out. There was overwhelming support from the community as a whole, and local volunteers joined Thomas to come up with a way to hand out all the donations.
A local car park was identified, and people came together to inform homeless people of the fact that a Christmas surprise would be waiting for them, not giving too much away. When they arrived on Christmas day, they were greeted with a backpack each with the gifts Thomas Totten had collected, a warm cup of coffee, and a sandwich.
One local homeless person commented on the event: "I can't believe the generosity of such a young man, and the community. I felt human again. And it was so nice to see so many people coming to help out and treating us with kindness and compassion. Thomas Totten is a true inspiration, and he makes me believe that the world is not so bad after all."
Source: Thomas Totten
Share: