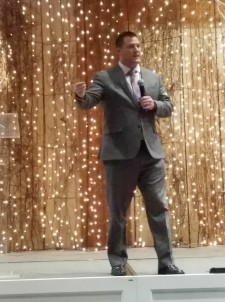 Wake Forest, NC, April 24, 2017 (Newswire.com) - The Leazer Group is a leadership company originally founded by Art Leazer. Leazer is a true Southern gentleman and he applies this attitude to all that he does, and expects nothing less from his team. Aaron Guetterman, agency manager at TLG, has truly embraced this, helping the company manage through various rapid changes, while also integrating new technology and other forms of innovation across the board.
Under the leadership of Art Leazer, Aaron Guetterman has been able to help the company to develop a variety of important services. The first is that of mortgage protection, which has been designed to ensure families do not have to face losing their home in the event that they go through financial hardship through unemployment, disability, or death. This insurance service ensures that people are prepared for the unexpected.
Another service that Guetterman has helped to develop is the final expense service. This has been designed to ensure that those people who are going through the difficulty of the passing of a loved one are properly protected. This is where the Southern gentleman values really shine through, as the goal is to make sure that people who are already going through the tremendous difficulty of saying goodbye to someone they care about, do not also have to face more problems due to financial concerns.
Next, as agency manager for The Leazer Group, Aaron Guetterman set up term and whole life insurance. Again, this is where the values of TLG shine through, as the company understands that families survive not just financially, but also emotionally. Hence, this form of protection has been set up to make sure that, if the unexpected does happen, a family can continue to remain secure and safe.
As an experienced insurance manager, Guetterman also added annuities to the list of services of the company. Fixed annuities are a popular form of investment, as they guarantee that people continue to receive a stream of income for the rest of their life. Similarly, he has helped to create the Indexed Universal Life product, which ensures that people have the flexibility to manage some of life's more complex financial happenings, protecting their own income and that of their family.
It should be pointed out that The Leazer Group goes above and beyond offering insurance products. They also host the Summer Leadership Conference, which will take place on July 21 and 22, 2017, at the Raleigh Convention Center in Raleigh, North Carolina. It was through one of these conferences that Aaron Guetterman first became involved with TLG, as he learned how to become a true agent of change, developing both personally and professionally. At the conference, agents are shown how to improve their sales. It is a coaching and training conference, where people can learn how to become an agency manager of their own, while becoming aligned to The Leazer Group.
Tickets are currently available for the leadership conference, and a small number of VIP tickets are also still open. With these tickets, people have access to five catered meals, as well as a private dining sessions, during which they can speak to Art Leazer, and also to Aaron Guetterman and others like him. Only 100 VIP seats are available, however, and many of those are for people who purchase monthly VIP packages, which means that the tickets are selling out very fast.
General admission tickets also exist so people who cannot access the VIP seating do not have to go without. Aaron Guetterman explains that the conference is designed for those who are ready to breakthrough to excellence in 2017, under the guidance of the TLG experience and leadership.
Aaron Guetterman attended the conference several years ago, and it has changed his life. Others have had similar experiences: "It is destiny's call," says one previous attendee, Mr. Tom Brown. "Art Leazer, a legend in the insurance business, was the locomotive that built two previous practice companies. Third time is the charm, they say. I have known Art for 28 years and he is the real deal, witty but bold, and a genuine concern for others. Art Leazer exemplifies integrity, leadership, and the brains needed to build a winning team. It is long overdue, and now Art rightfully assumes the mantle as leader of the LIMO, Leazer Insurance Marketing Organization. I'm on board!"
Whether someone is interested in accessing these products for their own personal protection, or whether they want to become their own agency managers through The Leazer Group, opportunities are available across the board, and Aaron Guetterman encourages them to contact him as soon as possible.
Source: Aaron Guetterman
Share: